Clicgear Golf Carts, Clicgear Gifts, Clicgear Accessories, Clicgear Parts

2
Free Shipping! Spotless Swing Golf Towel
Bright Spot Solutions
Sale!
Spotless Swing Towel | 3 in 1 Golf Towel and Golf Club Cleaner Free Shipping!
Spotless Swing 3 in 1 Microfiber Golf Towel


1. Stays clean on the outside for hands, glove, and face

2. Traps dirt and moisture inside with micorfiber technology

3. Microbrush fabric on the inside scrubs grooves clean without damaging or scratching club heads.

The Spotless Swing 3 in 1 golf towel is the latest innovation in the indespensible category of golf towels. Since a golf towel is a "must-have" for any golf bag, it makes sense to have one that is actually designed with golf in mind! The Spotless Swing towel is designed to trap dirt and moisture inside, leaving the outside clean and dry for your hands, gloves, grips and face. The Microfiber cloth can trap up to 6 times it's weight in moisture and debris so it doesn't end up on your clothes, grips, or gloves.

The most unique feature of the Spotless towel is the MicroBrush sewn to the inside of the towel. This fabric is designed specifically for deep cleaning the grooves of a club face without scratching even the most delicate club head finish. The Spotless Golf Towel elminates the need for a golf groove brush! Another thoughtful addition is a grommet on both ends of the towel. When you are riding on a cart, this allows for the open end of the towel to face down. When using a push cart, you can flip it over and have the open end on top for easier access and less bending over. See the video from the manufacturer below.



The Spotless Swing Towel ships SAME OR NEXT DAY from Innovagolf, so you get it super fast!

http://www.innovagolf.comspotlesstowel.html
$24.87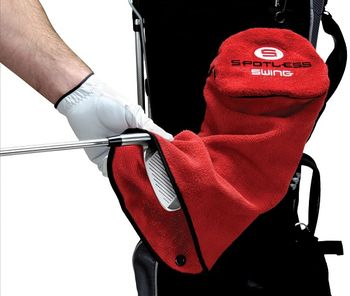 Product Description

Coupons? Specials? Private Offerings? Sign up here! (max one email per month)
I have been dealing with Innovagolf for at least 10 years. I have never been disappointed in the ... read more
*Contiguous 48 United States ONLY. AK, HI, APO/FPO may have additional shipping and will not be guaranteed for Dec 24th Delivery. Free Shipping EVERY item EVERY day! applies to ground shipping to the Contiguous 48 United States ONLY. Shipments to AK, HI, and some shipments to APO/FPO, and International destinations are charged according to weight. To qualify for free shipping, address(es) that are BOTH US Postal service AND UPS/Fedex deliverable must be supplied. Expedited shipments are extra, and charged by weight.
©1998-2017 innovagolf.com. All rights reserved.
Yahoo! Store
by Solid Cactus