Clicgear Golf Carts, Clicgear Gifts, Clicgear Accessories, Clicgear Parts

2
Original Orange Whip Golf Swing Trainer
Training Aids
Orange Whip Golf Swing Trainer
FREE SHIPPING!



The Orange Whip was developed by PGA Professional Jim Hackenburg to simplify his golf instruction and allow students to feel better lag, transition and release. Although the styles are generally suited to a particluar grip (i.e. men's vs. junior) each has a different feel so be sure to read the descriptions below.

The original Trainer is the longest version and most physically demanding. It can be difficult to control for seniors, women, beginners or shorter golfers.

Recommended for people 5'6'' and above. As ability of the golfer increases, the height of user becomes less of a factor

Swinging the Trainer is most similar to swinging a driver. Because of the Trainer's length, Balance and tempo easily develop because the user must wait for the momentum to gather. Also, the development of flexibility and range of motion is greater when compared to the other two versions.

The extra length also encourages more patience in the transition to avoid the "quick" swings and the common "over the top" swing fault.


http://www.innovagolf.comorangewhip.html
$109.00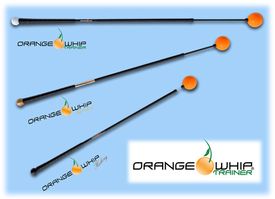 Product Description

Coupons? Specials? Private Offerings? Sign up here! (max one email per month)
I have been dealing with Innovagolf for at least 10 years. I have never been disappointed in the ... read more
*Contiguous 48 United States ONLY. AK, HI, APO/FPO may have additional shipping and will not be guaranteed for Dec 24th Delivery. Free Shipping EVERY item EVERY day! applies to ground shipping to the Contiguous 48 United States ONLY. Shipments to AK, HI, and some shipments to APO/FPO, and International destinations are charged according to weight. To qualify for free shipping, address(es) that are BOTH US Postal service AND UPS/Fedex deliverable must be supplied. Expedited shipments are extra, and charged by weight.
©1998-2017 innovagolf.com. All rights reserved.
Yahoo! Store
by Solid Cactus