Clicgear Golf Carts, Clicgear Gifts, Clicgear Accessories, Clicgear Parts

2
Home
>
BEST SELLERS
> FTR CaddyTrek Follow and Remote Control Electric Golf Trolley CT2000 BA
Caddy-Trek The Golf Cart That Follows You!
FTR Systems Inc
BEST SELLERS
FTR CaddyTrek Follow and Remote Control Electric Golf Trolley CT2000 BA
FREE SHPPING to the Lower 48 United States!


Yes, it is finally here the NEW 2014 Caddy Trek CT2000 BA. The world's first commercially available electric personal golf cart that will FOLLOW you around the course had gotten even better! The FTR CaddyTrek eliminates all of the thought about your clubs and frees you up for just one thing... a great day of golf.

The Caddy-Trek was designed and engineered by FTR Systems, inc, a global leader in robotic technology across a range of industries. Their superior proprietary robotic guidance systems use advanced motion sensing control technology that is world renown for its accuracy and reliability. They have married this unique technology with the latest electronics including a super-light Lithium Ion battery delivering more power for 10% of the weight of traditional Lead Acid batteries. In fact, the CaddyTrek weighs in at less than 39 pounds, WITH the battery, and will last for 27 or more holes of golf!

Despite its light weight, the engineers of the Caddy Trek did not cut corners on durability. The frame is an advanced aerospace alloy that delivers outstanding strength to weight ratio. It is held to together by high quality components designed to deliver years of service and hundreds of rounds.

The CaddyTrek is backed by a solid one year manufacturer warranty that covers the frame, guidance system, remote, and battery.

In addition to dutifully following you around the course on your precise path, the Caddy Trek can also be operated by the included remote control, or operated as a standard power assisted golf push cart. If you forgot to fully charge your battery, the CaddyTrek will "freewheel" allowing it to be used as a manual push cart. When folded, the CaddyTrek is a mere 23" X 18" x12", one of the smallest carts of any kind on the market. It will fit into any trunk, and tucks away neatly when you get home.

Best of all, this game-changing innovation, technology, and convenience are offered at a price that is LESS than many other standard remote control carts. Without a doubt, the value of the Caddy Trek is as groundbreaking as its technological advances. It will change the game forever.



Check out this
showing the incredible robotic technology of the CaddyTrek!
http://www.innovagolf.comcaddytrek.html
$1,495.00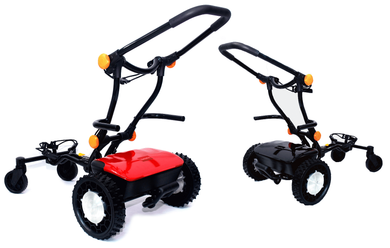 Product Description

Coupons? Specials? Private Offerings? Sign up here! (max one email per month)
I have been dealing with Innovagolf for at least 10 years. I have never been disappointed in the ... read more
*Contiguous 48 United States ONLY. AK, HI, APO/FPO may have additional shipping and will not be guaranteed for Dec 24th Delivery. Free Shipping EVERY item EVERY day! applies to ground shipping to the Contiguous 48 United States ONLY. Shipments to AK, HI, and some shipments to APO/FPO, and International destinations are charged according to weight. To qualify for free shipping, address(es) that are BOTH US Postal service AND UPS/Fedex deliverable must be supplied. Expedited shipments are extra, and charged by weight.
©1998-2017 innovagolf.com. All rights reserved.
Yahoo! Store
by Solid Cactus