Clicgear Golf Carts, Clicgear Gifts, Clicgear Accessories, Clicgear Parts

2
Home
>
Training Aids
> FREE SHIPPING! P3 Golf Practice Balls by Dave Pelz | 3 Dozen Box
P3 Almost Golf Balls | Indoor Golf Practice Balls FREE SHIPPING!
Training Aids
FREE SHIPPING! P3 Golf Practice Balls by Dave Pelz | 3 Dozen Box
AS SEEN ON TGC with Dave Pelz!

Our best value on P 3 Golf Balls! Get 3 dozen Point 3 Almost Golf Balls and save $12! Plenty of safe, enjoyable golf fun for the whole family!

These training balls are limited flight distance and are changing golf practice forever. At first glance, they look exactly like real golf balls. But an Almost golf ball is different. They are made from a dense foam rubber that gives them an incredibly realistic contact feel and ball flight, but limits the distance and makes them perfectly safe for any situation. Flight Distance is limited to about 40 yards! Point3 balls won't break windows, dent vehicles, or cause serious injury like real golf balls will.

They will provide a much more rewarding practice experience than any whiffle, or plastic golf ball. They are also execellent for indoor chipping practice. Chip shots with an AlmostGolf golf ball are virtually indentical in feel and distance to a real golf ball, but the TV and coffee table will be safe from errant chips!

Almost golf balls are also being used widely at parks and other recreational areas where virtual golf holes can be set up for a safe and "green fee free" round of Almost Golf. Or, let your Junior golfer "swing away" anywhere, anytime without worrying about damage to person or property.



Add fun and safety to your practice with P3 Golf Balls!

Remember: You get 36 P-3 Balls for a great new price! Enough for countless hours of safe and effective practice!




http://www.innovagolf.comalmostgolf.html
$37.65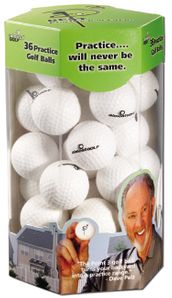 Product Description

Coupons? Specials? Private Offerings? Sign up here! (max one email per month)
I have been dealing with Innovagolf for at least 10 years. I have never been disappointed in the ... read more
*Contiguous 48 United States ONLY. AK, HI, APO/FPO may have additional shipping and will not be guaranteed for Dec 24th Delivery. Free Shipping EVERY item EVERY day! applies to ground shipping to the Contiguous 48 United States ONLY. Shipments to AK, HI, and some shipments to APO/FPO, and International destinations are charged according to weight. To qualify for free shipping, address(es) that are BOTH US Postal service AND UPS/Fedex deliverable must be supplied. Expedited shipments are extra, and charged by weight.
©1998-2017 innovagolf.com. All rights reserved.
Yahoo! Store
by Solid Cactus